January 16th – February 6th

If my people, who are called by my name, will humble themselves and pray and seek my face and turn from their wicked ways, then I will hear from heaven, and I will forgive their sin and will heal their land (2 Chronicles 7:14).

As we begin the New Year, many of us are setting goals, making resolutions, or defining hopes for our lives in 2022. But have we paused to consider how our plans match God's plan for us? As a way to humble ourselves and seek God together, we have designated 21 days from January 16th through February 6th as a time for sustained and intentional prayer and surrender to God. We encourage everyone during this time to also identify 1 way to practice fasting, which is simply choosing to say no to something we desire and give the time we would have spent to pursuing that thing to pursuing a relationship with God. Fasting is unplugging to "plug in" to the source of life, God's presence and power which fills and satisfies completely. We believe God does what God says – and so as we pursue God with humility, seeking to align our lives with his will, we will experience his forgiveness and healing in our lives and in our land in this time.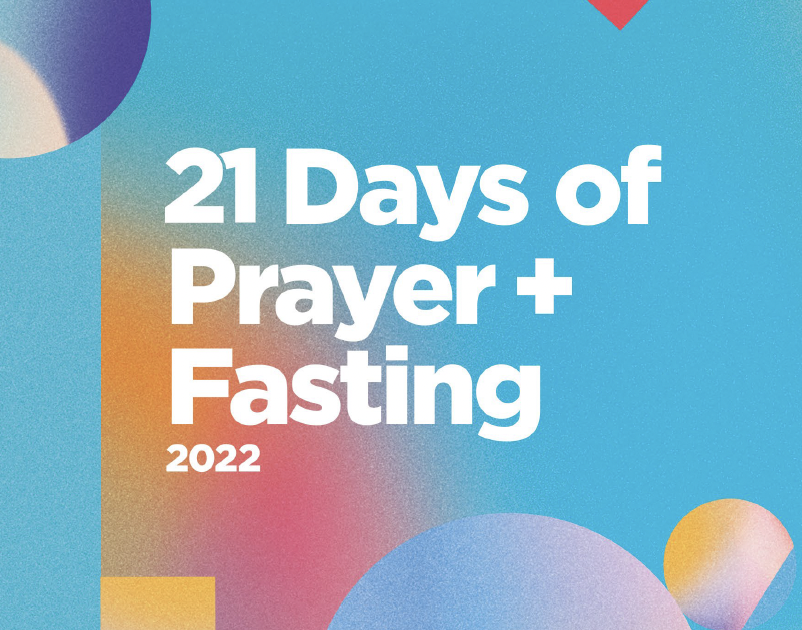 Key Prayers to Focus On:
As a way to focus your prayer during this period of fasting, we invite you to pray and reflect on these two prayers.
God, what is an area of my life that needs to change so I can be more obedient to you?
God, who is someone who does not know you I can pray for and show intentional love to this year?
This devotional guide provides scripture readings for each day, specific ways to pray, and exercises for families to do together. We highly recommend this resource! Devotionals are designed to take about 20 minutes.
Download it here
.
Options for a fast
On 1 or 2 days each week, skip one meal and devote that time to prayer OR abstain from all food from either sunrise to sunset
Choose a particular food to abstain from eating for the entire 21 days. When you feel a desire for that food, take time to pray
Abstain from using social media or watching TV for the duration of the fast. Use that time to pray
Virtual Gatherings
This fast is something we are doing together. So we want to make space to be together, pray together, and share what we may be hearing from God. For the next 3 weeks, we will gather virtually at several times during the week. These gatherings will include time of prayer (for one another, for our church, and our cities), discussion on a short passage from scripture, and time spent sharing about what he are hearing from God in our own lives. All meetings will happen on ZOOM.
Wednesdays at 5:30pm (Family-focused gathering designed for LifeKids and parents/caregivers)
Wednesdays @ 7:30pm
Thursdays @ 7:00am